We have just completed the 2010 season and it is already time to issue a call for volunteers for the 2011 season. We will arrive in Israel on 1 July and the dig will begin on 3 July. The dig concludes on 28 July.
As in previous seasons, there will be touring opportunities for dig participants. Saturday 2 July is an orientation day when we visit the dig site and tour sacred sites around the Sea of Galilee (Capernahum, Tabgha, Kursi).
July 7-10 will be our big optional tour to Istanbul, Turkey. We will fly out on Thursday and return Sunday. We will have opportunities to see Hagia Sophia, the Blue Mosque, the Topkapi Palace, the Istanbul Museum, etc.
July 14-15 will be a second overnight tour to Jerusalem including both archaeological and sacred sites.
Volunteers are critical to the work at Hippos. While archaeological excavation can be most arduous work, sometimes the finds are tremendous.
During this past season, one of our regular volunteers, Dr. Steve Chambers from Concordia Seminary Edmonton, had such an experience. While removing destruction fill from above a mosaic floor, he turned over a limestone block and discovered on it a fragmentary fresco of Tyche (see the previous post). It was a spectacular find and a good example of the important work done by dig volunteers.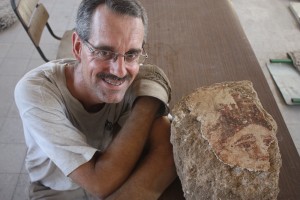 If you can imagine yourself in this picture or would like more info about volunteering, click the "Volunteers" link on the top menu.