After a couple of weeks of digging through layer upon layer of soil and destruction fill, it is so very rewarding to reach a surface. In the case of the Alpha Building complex at Hippos of the Decapolis, floors of three rooms can now be seen.
In G10, the team revealed a small room with a bench and a watering vessel in the corner. In its last phase this room may have served as a pen for animals.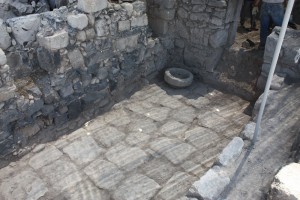 To the east is the main room of a house.  It too has a bench on the south wall, and only today started to show its floor.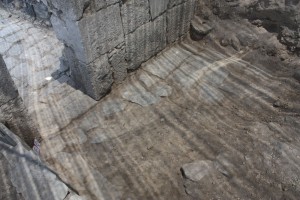 A window wall separates the main room of the house from a storage area likely under a sleeping loft. That storage area to the east in E10 has a rather crude stone floor.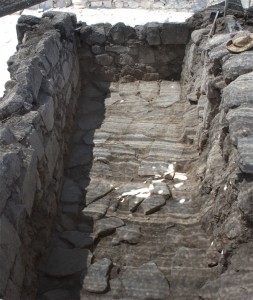 In its final phase the alpha building complex was a typical home of the Byzantine/Umayyad period.  However, the lower courses of the walls are built of large basalt ashlars, too large to be original to the house. So the next question arises, "What was the building previously?" It was great to reach these floors, but we must now look under them.