Although Concordia did not send a team for the 2014 season, Dr. Mark Schuler and area supervisor Darryl Schmidt did spend the first week of July at Sussita doing maintenance on the Northeast Insula.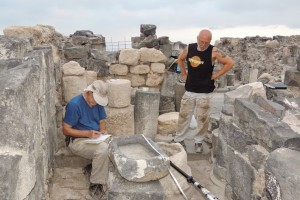 "Maintenance" means pulling weeds, removing small areas of tumble, and recovering mosaic floor exposed over the winter. In addition, Schuler and Schmidt completed work from the previous season. They exposed the rest of a small and late room built over the remains of the southeast corner of the House of Tyche. Next to the bench in the corner, they recovered a nearly intact Roman juglet, the form of which resembled a small amphora, only with one handle.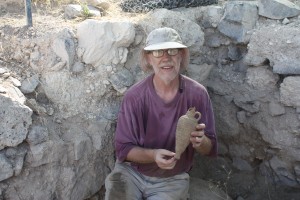 Two additional projects completed the week. A small probe was dug to bedrock in the sleeping chamber east of the apse of the Northeast Church. There Darryl recovered a fine Hellenistic drinking bowl.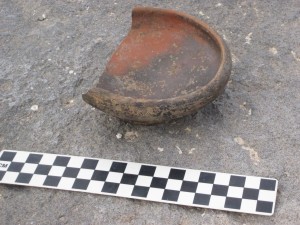 We also documented the cistern in the paved plaza between the Alpha and Beta buildings using a laser. The cistern is bell shaped and about 4.5 m deep.
See the report for 2014 for full detail.