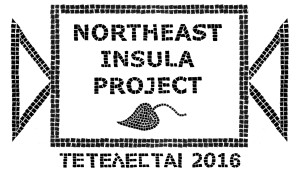 The final week of the excavation is upon us … and it is also the final season for the Concordia Team.  After fifteen years, we are leaving the field and beginning the work of producing a final report.
Over the next couple of days, I plan some summative comments. But none of the last fifteen years would be possible without the many students and volunteers who have joined us here at Sussita National Park. So I begin with final week with a sincere word of thanks to all of you.
I am listing you all here . . . you have been wonderful . . . I offer my thanks and pray that the blessing of the One who walked these shores so long ago might remain with you always.
These are the teams representing 280 trips to the dig:
2016
Appelbaum  Jim
Borchers Glenn
Chambers Dr. Steve
Chandler Adam
Dorner Dr. Michael
Friend  Dr.  Arny
Klinkhammer John
Kluth Dr. David
Mayer Michael
Meyer Benjamin
Pakan John
Reding Desiree
Schmidt Darryl
Schuler Dr. Mark
Short Lawson
Stanzyk Emily
Voges Jordan
2015
Appelbaum James
Dauffenbach Anna
Dorner Dr. Michael
Klinkhammer John
Kluth Dr. David
Marchetti Gina
Schmidt Darryl
Schuler Dr. Mark
Viggers Zachary
Wolf Melissa
Wright Alexander
2014
Schmidt Darryl
Schuler Dr. Mark
2013
Appelbaum Jim
Bishara Suzy
Debner Adam
Grabau Ezra
Haastrup Shon
Klinkhammer John
Miller Jonathan
Nomura Philip
Pakan John
Schmidt Darryl
Schuler Dr. Mark
Thomes Andrea
2012
Appelbaum Jim
Astley Aaron
Balke Geoffrey
Borchers Glenn
Chambers Dr. Steve
Chambers Jonathan
Combrink Laura
Haberstock Rachel
Kreutz Christine
Larson Lon
McFadden Eleanor
Olsen Margaret
Pakan John
Pakan Jan
Park Dam
Ries President Tom
Rogers Jim
Rudolph Erin
Schmidt Darryl
Schuler Dr. Mark
Starke Roland
Steinke Micah
Thomas Benjamin
Thomas Pamela
Thomas Wesley
Wiebold Jackie
2011
Appelbaum Dinah
Appelbaum Jim
Borchers Glenn
Edwards David
Foster Matthew
Hedberg Rachel
Kerntke Felecia
Klinkhammer John
Koscielniak Sarah
Kreutz Christine
Mankin Trevor
Marrs Richard
Marrs Laura
Olson Dylan
O'Neill Meghan
Rice Sarah
Schmidt Darryl
Schuler Dr. Mark
Shaw Anna
Sorkness Kyle
Wiebold Jackie
2010
Appelbaum Jim
Balding Gene
Bartlett Stephen
Behmlander Spencer
Borchers Glenn
Carpus Stefanie
Chambers Brenda
Chambers Dr. Steve
Cooper Cody
Davis Cory
Hedberg Rachel
Hill Elizabeth
Horgan Liz
Horgan Meg
Hugelen  Michelle
Klinkhammer John
Mayrhofer Max
McFadden Connie
Mennicke Christine
Montague Michael
Ratke Jason
Schmidt Darryl
Schuler Dr. Mark
Thuening Ted
Weik Heidi
Woell Brennan
Zinz Caroline
2009
Allen George
Appelbaum Hannah
Appelbaum Jim
Bach Elinor
Bach Emilie
Bednar Alex
Berson Andrew
Borchers Glenn
Clausen Eric
Craigin William
Fink Anna
Friend Dr. Arny
Hedberg Rachel
Heiliger Andrea
Heiliger Cameron
Horgan Elizabeth
Janzen Colleen
Klinkhammer John
Meyer Caleb
Middendorf Dr. Mike
Miller Linda
Moores Ashley
Morey Jennifer
Morey Wayne
Neumann Kristina
Parker Harrison
Rivera Sam
Roessler Carl
Rogers Jim
Schmidt Darryl
Schuler Dr. Mark
Schuler Dr. Rhoda
Simmons Tina
Spartalis Peter
Sweeney Karina
Weik Heidi
Woell Brennan
Wood Mark
2008
Anderson Katrianna
Appelbaum Jim
Balding Gene
Biernacki Christopher
Borchers Glenn
Chambers Dr. Stephen
Endicott Nancy
Friend Dr. Arny
Gibbons Nikolai
Gimbel Dr. Jim
Hayes Bill
Heumann Michelle
Horgan Elizabeth
Knippelberg Ruth
Mennicke Christine
Miller Linda
Moerike Quinn
Mueller Jake
Pearce Stephanie
Rogers Jim
Schmidt Darryl
Schuler Dr. Mark
Shack Jennifer
Siegle Darren
Simmons Tina
Simmons Carl
Tewes Jessica
Thompson Nathan
Viken Andy
Walker Daniel
Wemyss Ian
Westberg Daniel
Westberg Harry
2007
Allen Jackie
Bohlinger Jonathon
Borchers Glenn
Chandler Andrea
Fitzgerald Kevin
Friend Dr. Arny
Gehrke Bob
Hedberg Rachel
Hewitt Matthew
KhadijaSmith Lynn
LaCroix Jacob
LaCroix Rebecca
Leistico Susan
Miller Linda
Nelson Tamera
Neumann Kristina
Rogers Jim
Schuler Dr. Mark
Seefeld Laura
Shade Fred
Shade Janet
Tewes Jessica
2006
Abrams Irene
Anders Jay
Andrew Brian
Appelbaum Jim
Barr  Daniel
Borchers Glenn
Bundy Amanda
Chambers Stephen
Chandler Andrea
Cook  Tabitha
Dougan Kody
Endicott Nancy
Friend Dr. Arny
Heiliger Cameron
Hequet Marc
Holst  Dr. Robert
Magnus Clinton
Magnus Joyce
Meyer Bill
Meyer Jessica
Miller Linda
Neumann Kristina
Patella OSB Dr .Michael
Pratt Dr. Susan
Randolph Stephanie
Roeske Rachel
Rogers Jim
Schmidt Darryl
Schuler Dr .Mark
Schuler Dr. Rhoda
2005
Borchers Glenn
Chandler Andrea
Endicott Nancy
Friend Arny
Fritsche Bill
Hequet Marc
James Paul
Kaetsu Mark
Middendorf Mike
Miller Linda
Roeske Rachel
Rogers Jim
Schaefer Kathryn
Schuler Mark
Thompson Erin
2004
Borchers Glenn
Carnehl Ben
Hequet Marc
Laatsch James
Laatsch Karen
Mills Jenn
Ostgren Stan
Roemen Brian
Rogers Jim
Schuler Mark
Schumacher Tim
2003
Borchers Glenn
Cannedy Eric
Hatch Ryan
Heffern Danielle
Hequet Marc
Keller Roger
Leistico Susan
Marvosh Michael
Middendorf Dr. Michael
Rogers Jim
Schuler Dr. Mark
Weldon Robert
2002
Hequet Marc
Schuler Dr. Mark
Tidemann Kay
Urban Shawn