Today, new mosaic floors appeared in the excavation areas of the NE zone. A mosaic floor is the third floor (earliest) identified in the northeast hall of the peristyle house. Only a small fragment is visible so far just inside the western entrance. Watch for more later in the week.
Further north in the entrance to the garden from the stepped street, a second mosaic floor is being uncovered. Anna Shaw and Dylan Olson did the detail work.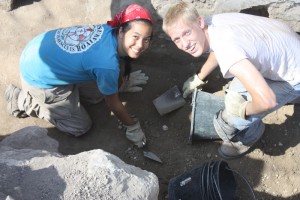 While Dylan was cleaning the floor, his supervisor, Darryl Schmidt, while looking down from above, noticed some writing in the floor. It is an inscription in tabula ansata, that reads
ΕΥΤΥΧΩΣ
ΤΩ ΚΤΗΣΤΗ
A rough translation is "Good fortune to the builder."
Dylan continued the cleaning process that revealed the inscription.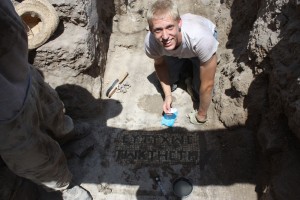 In this same garden the team recovered last year a fresco of Tyche, the goddess of Fortune. Her name is the root of the first word of this inscription.
More cleaning is scheduled for tomorrow.